Careers
Jobs for the best providers of high-quality care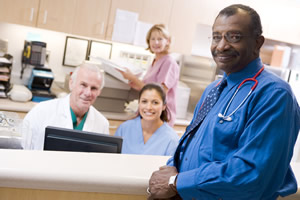 As one of the largest, multi-specialty medical groups in the Greater Cincinnati area, serving more than 200,000 patients in eight centers, Group Health offers excellent opportunities for medical and business professionals dedicated to quality. Full-time, part-time and flexible positions with a variety of shifts and locations are filled as needed.
Group Health is a part of the TriHealth family. Trihealth has been named a Top 10 Nonprofit Company for Executive Women by the National Association for Female Executives, as well as a Working Mother 100 Best Company. When searching for career opportunities, you will be looking through TriHealth's database and submitting an application to TriHealth.
Search and apply online for opportunities in these areas:
Clerical – Including appointment coordinators, front desk specialists, credentialing staff, billing specialists, medical records positions, coding staff and executive assistants.
Management – Including practice administrators, service line management, billing and coding managers and executive leaders. Group Health looks for specialists who have demonstrated management ability and the qualities needed to lead a dynamic health care organization.
Professional – Including pharmacists, physical therapists, business analysts and marketing/communications.
Nursing – Including registered nurses and licensed practical nurses.
Service – Including facilities and maintenance positions as well as physical therapy aides.
Technical – Including medical assistants, radiology technicians, mammography technicians and ultrasound technicians. Most positions require some experience or certification.