Pediatrics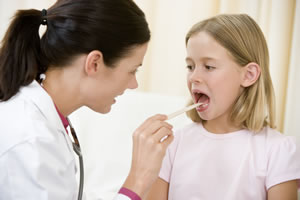 Pediatric doctors at Group Health specialize in the care and treatment of infants, children and adolescents. They also manage acute and chronic illness and behavioral problems, from newborn through college age.
Pediatricians originated the concept of a "medical home." In this approach, a pediatrician manages a child's physical, mental and emotional well-being through every stage of development – in good health or illness. The pediatrician leads a team of medical staff who collectively take responsibility for the ongoing care of the child.
The health care needs of children are different from those of adults. Pediatricians have been specially trained to deal with these special needs. Whenever your child needs health care, you should look to your Group Health pediatrician for guidance.
Meet the Group Health pediatricians.
Expertise in Pediatrics
Group Health has pediatricians, internal medicine physicians, family practice doctors and nurse practitioners who see children. The department has expertise in:
Annual exams, including sports physicals
Attention deficit-hyperactivity disorder
Behavior issues
Growth, nutrition and exercise
Immunizations
Infectious diseases and other acute pediatric illnesses
Minor injuries
Normal development and developmental delays
Screening for depression and other mood disorders
Sports physicals
Well child checkups
Coordinating care with MyChart
MyChart is a secure, online service that allows you to access your child's health information and keep in touch with your Group Health pediatrician. With MyChart, you can:
View your child's medical record
Print a list of current immunizations
Make appointments
See test results
Request a prescription renewal
Email your pediatrician 
Sports and Camp Physicals
Group Health pediatricians can fill out your sports and camp physical forms at any time during the year after his or her annual check-up. It's important that you look to your pediatrician to assess your child's readiness for these activities. While sports clinics may be convenient, we have the medical records and experience with your child that allows us to address any limitations or perhaps catch conditions that could put your child at risk for injury or illness.
As long as your child has been seen for an annual check-up within the past year and has no major medical concerns, we can complete and sign the sports physical portions of the required forms. Just complete all areas required of parents and drop off or mail the forms to your pediatrician. Provide a self-addressed, stamped envelope or pick up the forms from the office. We will give these priority, but please allow us up to two full business days to complete the forms.
Not only will you save time, you'll save money too. Annual checkups are covered by most insurance plans, and we do not charge to fill out the forms. For more information about sports physicals, see this article by John Bacon, MD.
Important Forms
During the course of childhood, your child will most likely need numerous forms completed by his/her pediatrician, whether for school, camp, sports and/or child care. You can access these documents in the Forms section of our website. Save yourself – and your pediatrician – time by completing the necessary forms prior to your visit.
Additional Resources
Group Health Providers in the News:
Seeing patients at 6 locations
Bacon, John P. MD
West Chester
Bell-Gresham, Garrett MD
Kenwood
Bennett, Kelly MD
Finneytown , Mason
Bird, Stephen G. MD
Finneytown , Mason
Brinker, Diana MD
Western Hills
Cullen , Pamela FNP-BC
Western Hills
DeBruer, Jenny MD
West Chester
Derickson , Theresa M. MD
West Chester
Fananapazir, Nafeh MD, MS
West Chester
Fieler , Lisha MD
Western Hills
Kallenberg, Abi H. MBBS
Kenwood
Mumma, Jonathan D. MD
Anderson
Quinn, Kelsey DO
Western Hills
Stein, Abigail MD
Western Hills
Szczepanski, Karen MD
Finneytown
Thompson, David T. MD
Anderson
Warrick, Denise M MD, MEd
Anderson