Sports Medicine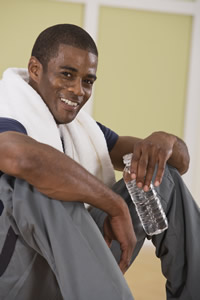 Sports medicine doctors at Group Health focus on treatment and prevention of sports injuries and other disorders.
Doctors from several different specialties work together to get you back in the game through treatments and, when necessary, surgery and rehabilitation.
Orthopedic surgeons specialize in the treatment of disorders of the musculoskeletal system, including the bones, muscles, tendons, ligaments, joints, cartilage and other connective tissues. Group Health orthopedic surgeons treat dislocations, strains, sprains and broken bones.
Podiatric surgeons at Group Health, who specialize in the care and treatment of the foot and ankle, may also be called in to consult on sports injuries.
Physical medicine and rehabilitation doctors may treat sports injuries by electrotherapy, injection procedures, therapeutic exercise and pharmaceutical pain control.
Disorders treated include: 
Achilles tendon tears
Ankle sprains
Articular cartilage injuries
Collateral ligament injuries of the knee
Biceps tendon injuries
Golfer's elbow
Little Leaguer's shoulder and elbow injuries
Jumper's knee, patella tendonitis
Knee ligament tears and strains, such as anterior cruciate ligament and posterior cruciate ligament injuries
Meniscus injuries
Osteochondral lesions of the talus
Patella dislocations
Quadriceps tendon and patella tendon tears
Overuse injuries
Shoulder impingement syndromes
Shoulder instability and dislocations
Shoulder labral tears
Stress fractures
Tennis elbow
Triceps tendon injuries.
Expertise in sports medicine treatments
The sports medicine department has expertise in:
Advanced arthroscopic procedures of the shoulder, elbow, wrist, knee and ankle, to diagnose joint injuries, remove bone or cartilage, or repair tendons or ligaments
Biomechanics
Elbow replacement
Fracture care
Hip replacement
Joint injection
Knee replacement
Medical acupuncture
Orthotics, such as shoe inserts, neck braces, lumbosacral supports, knee braces and wrist supports
Osteopathic manipulative treatment
Shoulder replacement
Seeing patients at 5 locations
Brannon, Gretchen PA-C
Anderson , Mason
Haverkos , Stephen D. MD
Clifton , Western Hills